Hand Surgery Specialists of Nevada
Dr. Aaron M. Gray
Board-Certified Orthopaedic Surgeon
Dr. Gray was born and raised in Norman, Oklahoma. He attended Texas A&M University, studying biology and mathematics. He earned both an MD and PhD from the University of Texas Medical Branch in Galveston, Texas. It was here that he discovered his passion for orthopaedic care, completing his PhD in Rehabilitation Science with a dissertation focused on ACL injury in women. He then went on to complete his residency in orthopaedic surgery at the University of Nevada, Las Vegas. Spurred by his interest in surgical care of the hand and upper extremity, he then travelled to Indianapolis, Indiana to complete a fellowship in hand, upper extremity, and microsurgery at the famed Indiana Hand to Shoulder Center.
Dr. Gray specializes in the treatment of the entire upper extremity, from fingertip to shoulder, and conditions including trauma, arthritis and degenerative conditions of the hand, sports injuries, joint replacement, and much more. Dr. Grays clinical practice is patient centered with an emphasis on mutual decision making. Each visit will leave the patient with a comprehensive understanding of their condition as well as treatment options and potentials risks. He continues to participate in research and medical education as a community faculty member for the Department of Orthopaedic Surgery at the UNLV Kirk Kerkorian School of Medicine.
Dr. Gray is a former professional triathlete and continues to train and participate in triathlons and marathons. He enjoys spending time with his family, travel, and is a technology enthusiast.
Education
Undergraduate: Texas A&M University, College Station, TX
Medical: University of Texas Medical Branch, Galveston, TX
Training
Orthopaedic Surgery Residency: University of Nevada, Las Vegas, NV
Hand and Microsurgery Fellowship: Indiana Hand to Shoulder Center, Indianapolis, IN
Hospital Affiliations
Make an
Appointment
(702) 645-7800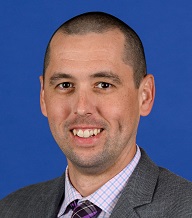 Aaron M. Gray, MD, PhD
Dr. Gray specializes in the treatment of a variety of conditions affecting the upper extremity and performs several upper extremity procedures including:
Comprehensive care, fingertip to shoulder
Traumatic and degenerative conditions
Sports medicine
Minimally invasive surgery
Disclaimer
Last Modified: September 5, 2022